Martin Dillon Tribute (1957-2005)
I met Martin Dillon via my call for singers for involvement in my second chamber opera, Nightingale: The Last Days of James Forrestal. He was cast as Harry Truman (and in a minor role as Louis Johnson). We talked initially in his W. 21st St. apartment and he made the best strong coffee I had had in a long time. He (and other nice people in the cast) donated his apartment for rehearsals and he hosted an amazing cast party when it was all over. He was such a nice person, had great taste, and I liked him very much. In the summer of 2005 I read the Fanfare interview with him in a Barnes and Noble in Pennsylvania as I was passing time. I was so proud and happy for him and his success with his Robert Kahn project. I was looking forward to contacting him to see if he would like to be in my next opera. I did not hear the news of his passing until three months after it had happened and I was shocked.
The Truman role was very demanding. It was the spikiest "atonal" scene in the whole opera, the climax and the most Expressionistic. Martin worried early on but never flinched. In the end he aced it. He looked great in the role and after much hard work, sounded great, too. We could not have asked for a better performance. And he was always a great joy to work with. I remember him telling me later that the role encouraged him to start singing as and identifying himself as a high tenor whereas before he had stuck to mid-low ranged music. Of course, I take no credit, but he made me feel that I had a part in his vocal journey and such things are always the lasting feelings of these kinds of projects.
Rest in peace, Martin.
For you, reader, here are some pictures of Martin in action. [All pictures credit: Paul Takeuchi]
As Harry Truman opposite Salvatore Basile as James Forrestal (Chorus in background)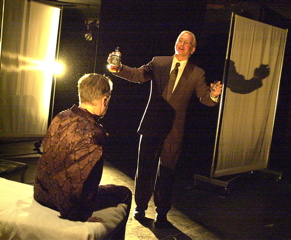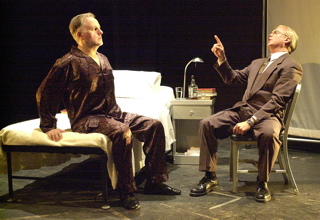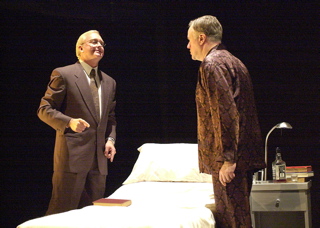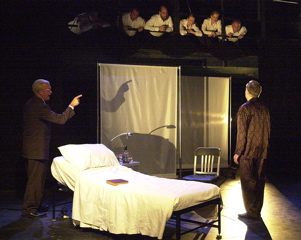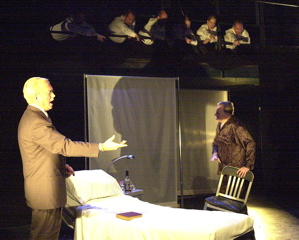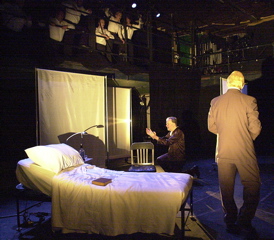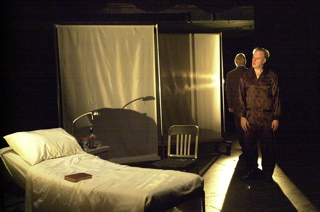 Paul Takeuchi
As Louis Johnson, a brief but funky role!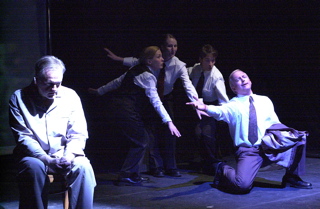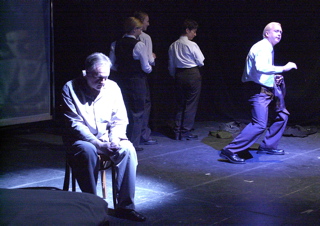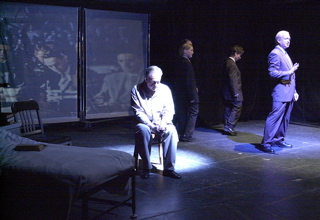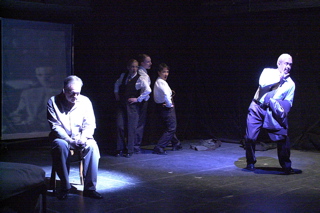 Paul Takeuchi